We are in the process of building our PD calendar of events for the year. You can view and register for open events by clicking the icon below and selecting your event from the calendar.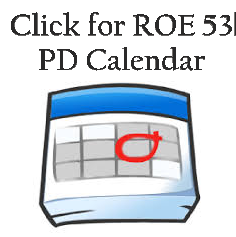 AA#1448 Teacher Evaluator Competancy, Danielson 2 & 3
AA #1541 Difficult Conversations, April 17, East Peoria Central

April 26, 2018
Location: East Peoria Central Jr. High
Presenter: Jill Reedy
Cost: Free
Overview: This administrator academy will focus awareness of the impact of trauma on student learning and include guidance on developing trauma-informed, school-wide practices that will benefit all students. Participants will be provided resources that will engage and support understanding among staff, including modeling restorative practices and positive behavioral supports. Time will be provided within the six-hour course to develop a timeline for professional development and implementation plan.
Google Suite for Education Technical Retreat
April 27, 2018
Location: Clock Tower, East Peoria
Presenter: Learning Technology Centers of IL
Cost: Free
June 11-22, 2018
Location: Various natural settings throughout Fulton, Mason, Peoria & Tazewell counties
Presenter: University of Illinois Extension
Cost: $250/$350
60 PD Credit Hours
Click here to Register (Registration deadline: May 31)
*Evaluation and Evidence of Completion will be available after the event for educators who attend
Poverty: Professional Learning, EPHS
..
STAR-Online (through WIU)
National Board (NBPTS)