We are in the process of building our PD calendar of events for the year. You can view and register for open events by clicking the icon below and selecting your event from the calendar.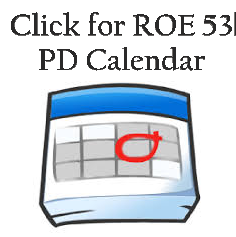 Title: A Day Uncovering Trauma and Learning New Classroom Based Strategies
Presented by: Dr. Bruce D. Perry, MD, Ph.D., and Steve Graner, MA
Date: January 7, 2019
Time: 8:30- 3:30
Activity Hours: 6
Location: Morton High School, Bertha Frank Auditorium
Cost: $25 per person
*Lunch is included with the price of registration
A Day Uncovering Trauma Flyer (printable)
SAT and PSAT Educator & Student Support Workshop
Date: Tuesday, January 29
Time: 9:00-2:00
Central Junior High School (East Peoria) in PDLC 1& 2 room
Registration Link: Registration
Compliance Training - 11.01.18
Proficient vs Excellent - A Look Into Danielson
Student Discipline Training - Senate Bill 100
A Day Discovering Dyslexia
Date: Friday, November 2nd
Time: 8:30 - 3:30
Location: East Peoria Central Junior High
Hours: 6
Cost: $20.00
Registration Link: Registration
Online Book Study: "Trauma Sensitive Schools for the Adolescent Years:
Promoting Resiliency and Healing, Grades 6-12"

Date: November 5- December 14, 2018

Cost: $35

Hours: 12

Registration: Register Here

AA #1801 Decatur - Gathering Evidence and Conferencing Presentation

AA #3002 Student Growth, East Peoria, Sept. 21
Implementing Acceleration Placement Program Toolkit
Social Media Got You Frazzled
..
STAR-Online (through WIU)
National Board (NBPTS)